THERAPEUTIC ANIMAL MASSAGE: $65-75
HEATED STONE ANIMAL MASSAGE: $75-85
MASSAGE ASSISTED LASER THERAPY: $30-$40
PEMF THERAPY: $15-25
VETERINARY NURSE NEEDS: PRICING VARIES
"THE WORKS": $120
Peak Animal Wellness & Massage offers Therapeutic Animal Massage Therapy, Heated Stone Animal Massage, Laser Therapy, PEMF therapy or veterinary nurse house call visits by appointment only.
Each session takes place in the comfort of the client and pet's home, and generally ranges between 45-60 minutes (depending on the animal's size, as well as mental, physical, and energetic state).  Generally speaking, massage time will increase in time once the patient becomes more comfortable, and begins experiencing the benefits of regular bodywork. 
Sessions generally takes place on the floor, on a mat or dog/cat bed.  We include calming music, flower essences, and essential oils if requested.
Please note that we will require veterinary authorization for all laser and PEMF therapy sessions.
No show fees may apply
Giant Breeds (greater than 120 pounds): $85 for 90 minute sessions)
Claire is fabulous! Chester had the pleasure of having Claire work on him for some shoulder issues. Her genuine caring energy always helps him relax and get the full benefit of what she is doing. Chester and I highly recommend Claire to our friends, Claire really shows her love of animals and her passion to make them feel the best possible is truly comforting to the pet guardian!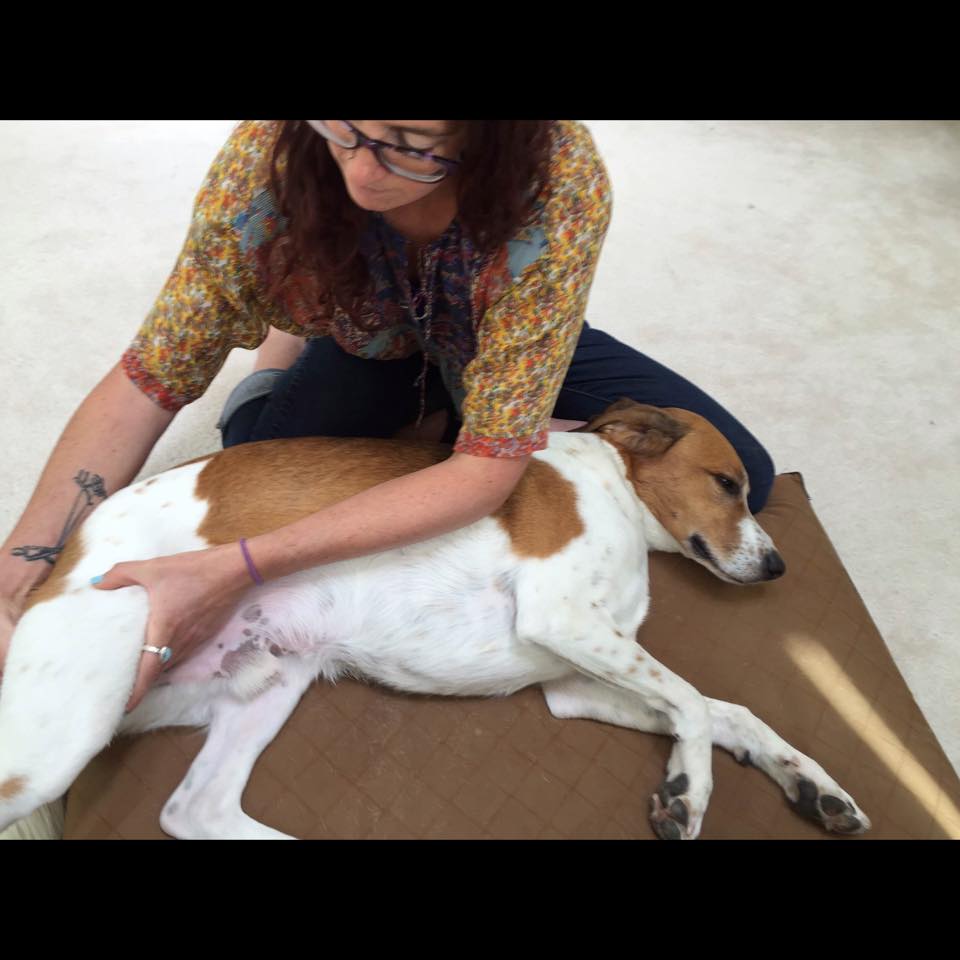 Maureen with Chester

We have a 15 year old Silky mix. Newby. She began walking so slow and not wanting to go as far. And also seemed uncomfortable at night. After her first massage from Marcy I could tell instantly she felt better...so for 6 weeks she got a massage once a week. The change has been huge! She's sleeps thru the night, we're back to her longer walks daily and she seems years younger. Now I'm having Marcy massage her about every two or the weeks (as needed) It's amazing and so worth it, she targets the needed spots and is so good at working with Newby (and she loves Marcy!). Also she's drinking more water and today after her massage was really playful (I haven't seen her like that in a few years!) It's the best thing I can do for her! Thank you Marcy!!!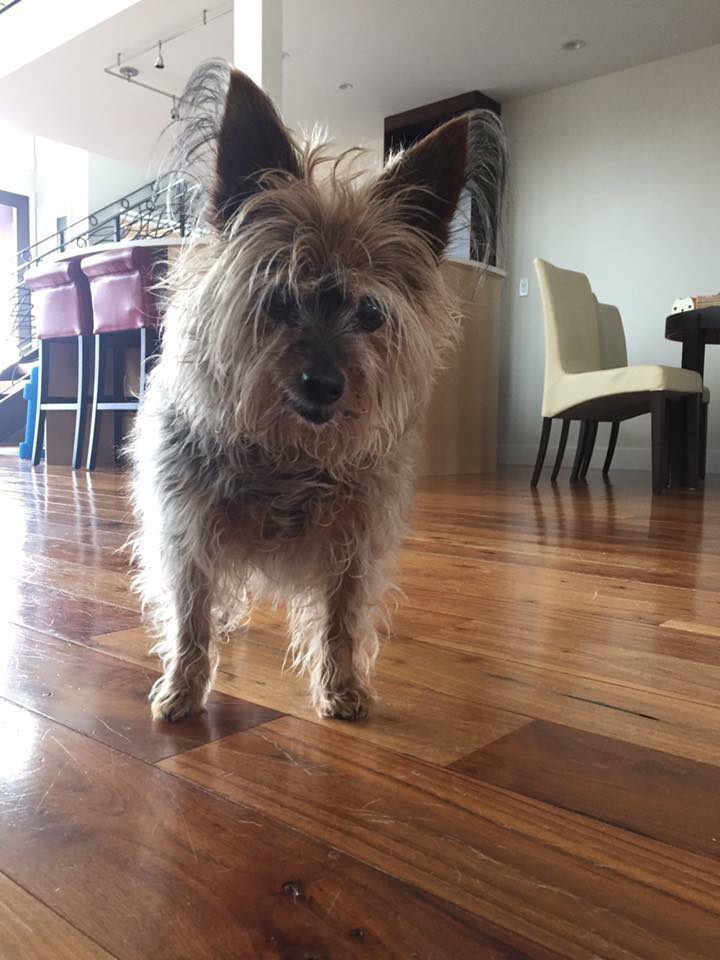 Jeanne with Newby

I really had no idea that massage would work this well and let my 17 year old cat act like the kitten he apparently believes that he is. All this time, I just thought he liked bossing kittens but he actually wants to be one. It also makes me so sad that I didn't do this sooner and didn't do this for Rocko.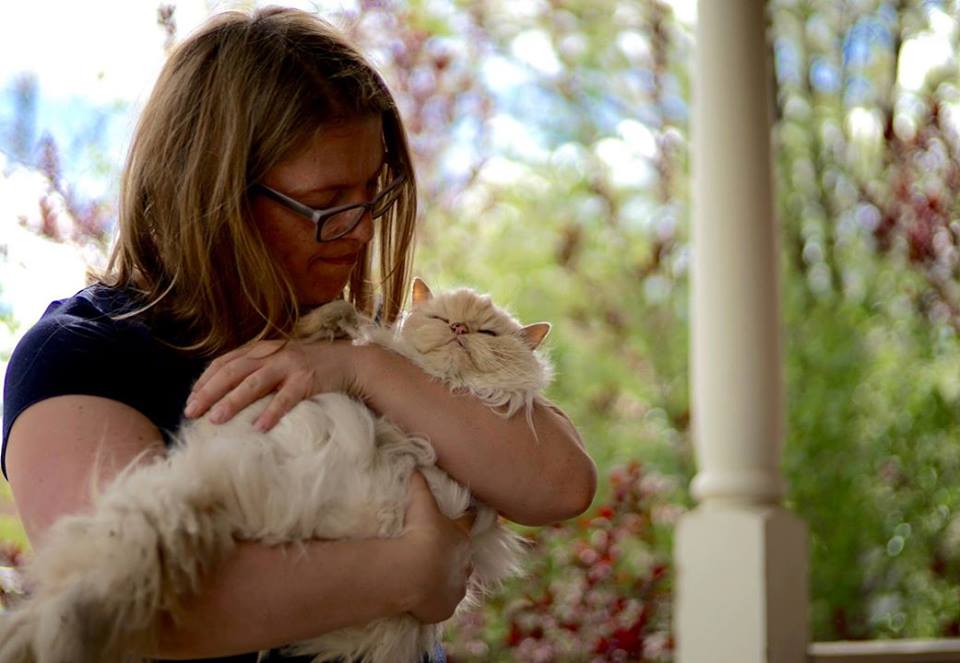 Sarah with Aspen

My 15+ year old Sheltie, Shelby, started massage therapy with Claire in October 2015. Shelby has arthritis and walking was becoming difficult and she was falling. She gets tremendous relief from massage therapy and has even resumed walks! Though the walks are shorter, Shelby feels better and her quality of life is greatly improved. We would highly recommend Claire, as I can see Shelby's joints and muscles loosen up and relax during her massage. Claire provides a detailed Session Report on what areas she worked on, diagrams and recommendations. Claire truly loves animals and is dedicated to helping them live healthier and comfortable long lives. Shelby loves seeing her come to the door!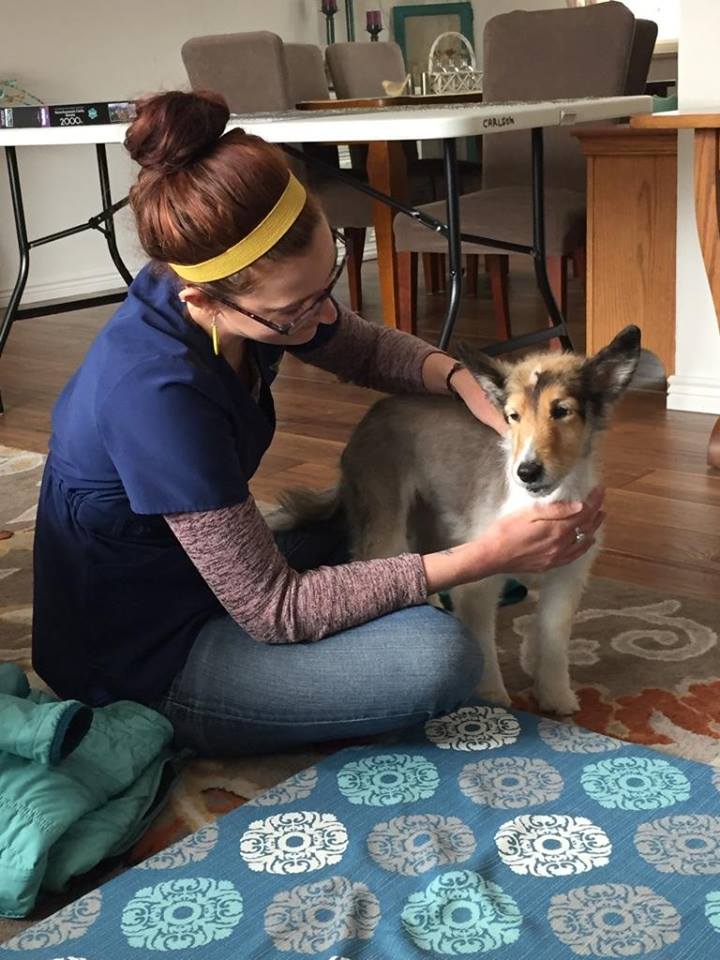 Julie with Shelby